Skip to Content
Swim Spas & Year Round Pools From Hot Tubs London
Hot Tubs London is proud to offer an innovative line of swim spas to London, ON, and the surrounding communities. Our team is committed to providing our customers with a constant supply of options. Swim spas are an excellent option for those looking to combine the relaxation and comfort elements of a hot tub with the exercise opportunities a gym might provide. Our swim spas are long and deep enough to swim in them, and the powerful jets provide resistance. Competitive swimmers use them – but everyday people looking for low-impact exercise can as well.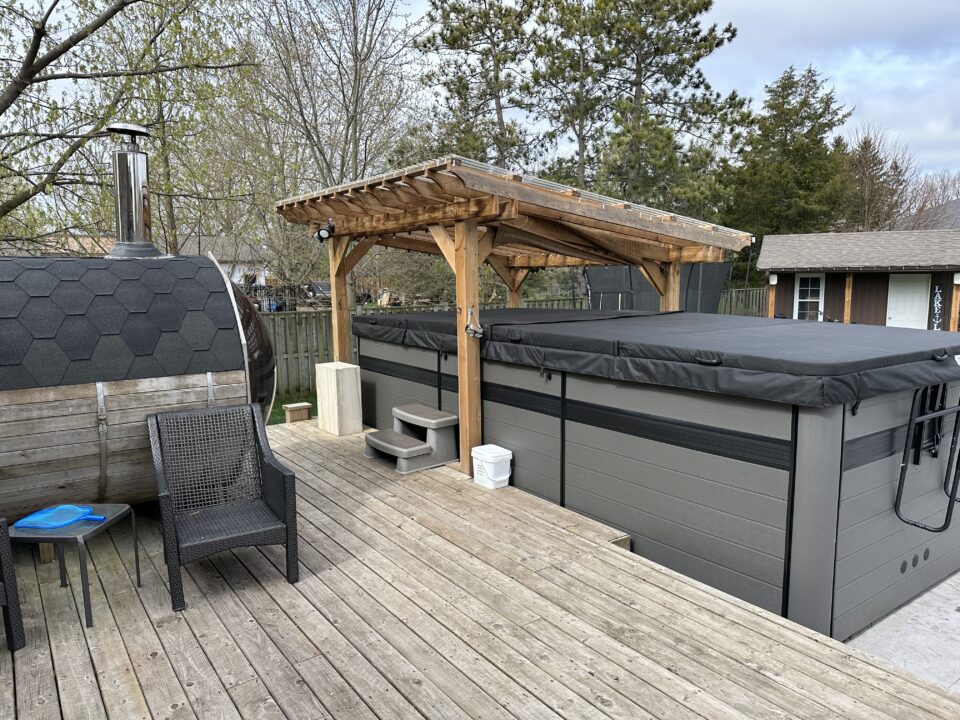 Olympic-Style Training
This unit features a current-based design that enables you to swim, jog, or walk in the water. It reduces the stress gravity on your body and allows you to benefit from the unique exercise opportunities of swimming in your background. Additionally, all Swim Spas have massaging spa jets and a tightly regulated water temperature for year-round swimming.
Why Choose a Swim Spa?
How big is your backyard?

Swim spas are the ideal solution when you want to swim regularly, but don't have the space. Swim spas are much smaller than the average pool. A swim spa allows you to enjoy the luxury of having both a pool and a spa without the expense, maintenance, or space issues associated with caring for two separate entities.
What will you use it for?

Swimming pools are great for entertaining and can accommodate a lot of people. However, if you are more interested in personal use and want hydrotherapy and fitness benefits, a swim spa will better suit those needs. The extra hydrotherapy jets can be used to increase your swim spa's relaxation benefits or to intensify the water resistance which in turn increases the difficulty of your workout during a swimming session. If you want to swim all year round, you never have to close or open the pool.
Do you plan on swimming year-round?

One of the biggest benefits of swim spas is year-round swimming. Swim spa owners can exercise in a comfortable water temperature all year round. Having an extended swim season is also a great benefit for those swimming for health reasons. It adds consistency to their routine While you can heat an inground pool during winter months, it can be cost-prohibitive, and most people do not use them out of season.
Do you have time for regular maintenance?

Swim spas require minimal maintenance. Because swimming pools are essentially large containers of standing water, they require a substantial amount of chemicals to keep them clean and functional. They also need more of your time to clean out debris and dirt.
Do you care about the environment?

Swim spas require less chemicals and maintenance than the average pool. They are energy-efficient and use less water because less is lost to evaporation.
The Ironman Series: Relaxation and Vigorous Exercise
Research continually shows the benefits of exercise in warm water. And the same research demonstrates time and again the restorative nature of an evening soak in a hot tub. Our models are ideal for individuals and families that want to take advantage of the dual nature of a swim spa. Our models include:
Pro Level
Featuring jets of 45 or 50 and varying seating options, the pro level is a perfect option, no matter the size of your home.
Trainer
The Trainer Deep is the deepest dual temperature model.
H2X Therapool
These swim spas cater to those who need extra therapeutic benefits from their spa. The Therapool D, SE, and 13 are all ideal options.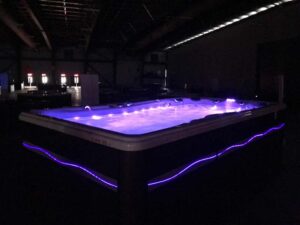 Enter a Life of Luxury and Better Health Today
Hot Tubs London is proud of our reputation for delivering a premium, luxurious experience to your front door. We're here for you from the beginning to the end of your journey. Our experts will listen to what you need from your swim spa and suggest the best option then our installers will work quickly and efficiently. Additionally, we offer reliable third-party financing to make your purchase easier on your wallet.
Contact Us Today to Enjoy a Life of Luxury